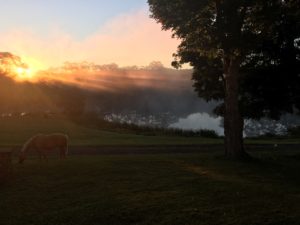 We're excited for you to share the weekend with us in Upstate New York. Below is the schedule for the weekend, which we'll be adding more details to as the date gets closer, so please check back before the big day.
All activities will be taking place at the Blenheim Hill Farm, which is located here:
Blenheim Hill Farm
673 Blenheim Hill Rd
Jefferson, NY 12093
www.blenheimhillfarm.com
And here is the schedule for the weekend:
Friday, July 7th
5pm – Rehearsal with wedding party and immediate family.
6pm-11pm – Everyone is invited to Welcome Dinner & Drinks. We'll have an open bar, great food and a bonfire.
Dress: Casual
Saturday, July 8th
4pm – Transportation to the Blenheim Hills Farm
5pm – Wedding Ceremony
6pm – Cocktail Hour
7pm to ? – Reception
Dress: Cocktail Attire
Sunday, July 9th
Since everyone will be packing to leave, we'll be foregoing the morning after brunch and saying our goodbyes the night before.